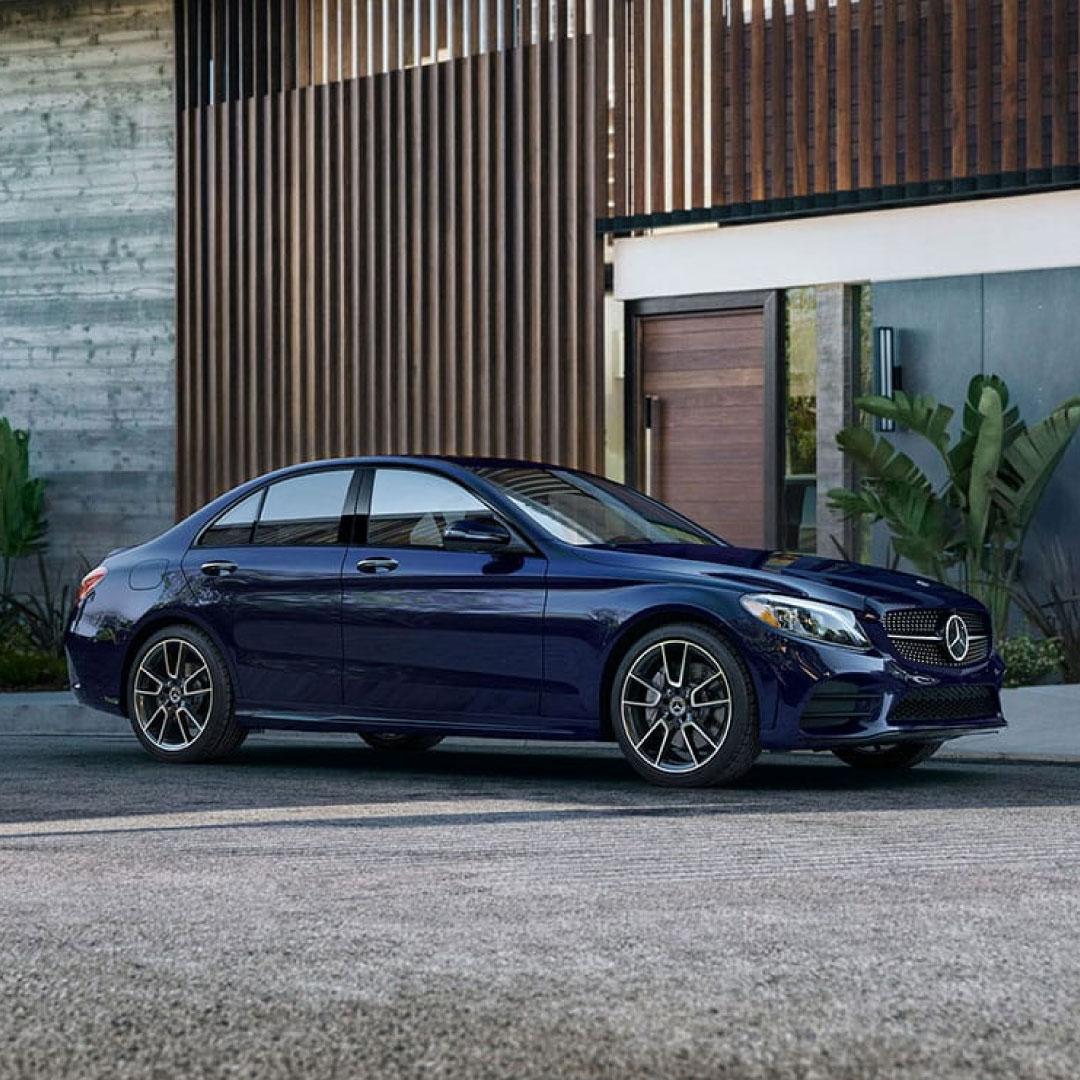 2020 Mercedes-Benz C-Class Sedan
2021 Mercedes-Benz Line-Up: There's Something For Everyone
The Mercedes-Benz 2021 lineup represents the most refined cars you will ever see on the roads of Lubbock. From the all-new Mercedes-Benz SUV models like the GLA to the legendary E-Class, there is a bit of something for every driver. And if you are looking to upgrade your commute to Amarillo, maybe add a little flavor to the way you get on the road, we at Alderson European Motors Lubbock would recommend the following vehicles from Mercedes-Benz.
Sedans/Wagons
2021 Mercedes-Benz A-Class: The 2021 A-Class features an ultramodern design with a premium cabin that will keep you interested for years to come.
2021 Mercedes-Benz C-Class: If you are looking to making waves on the roads of Clovis, NM, the C-Class is your best bet. Now with all trims equipped with a battery pack, the 2021 C-Class is looking to be more efficient than ever.
2021 Mercedes-Benz E-Class: The E-Class legend continues with an all-new fascia with a redesigned grille and headlights. Thanks to the AMG package, the new E-Class looks sporty yet elegant, and inside, it features plenty of upgrades, including an improved driver-assistance suite.
2021 Mercedes-Benz S-Class: The new S-Class pushes the boundaries of innovation like you have never imagined. Be it design, technology, performance, what have you, the new S-Class is engineered to give you the best.
2021 Mercedes-Benz Maybach: The Maybach is designed to exude elegance in all forms. Under the coat of elegance lays the pinnacle of luxury, comfort, and unique appointments tailored for your unique Tatum, NM lifestyle.
2021 E-Class All-Terrain: This is the car built to inspire adventure in you. The E-Class All-Terrain features a great exterior, plenty of safety features, powerful powertrains, and a luxurious cabin for all your adventure needs.
Coupes
2021 Mercedes-Benz CLA 4DR Coupe: This car is fairly new and is coming from a full redesign in 2020. It is very stylish, especially with the new AMG Line and Night package. Inside is a digital cockpit that is very responsive and would appeal to almost every Lemesa, TX driver.
2021 Mercedes-Benz C-Class Coupe: The C-Class coupe comes in five trims just as the sedan, and each trim has its unique powertrain and interior features.
2021 Mercedes-Benz E-Class Coupe: Driven by a 362 horsepower engine with a 9-speed transmission with overdrive, the E-Class coupe is not what you call a toy. It also features plenty of technology, including a well-equipped driver assistance package. 2021 Mercedes-Benz CLS Coupe: A four-door coupe with a five-seater capacity. The new CLS seats your passengers in lots of space and style. The interior is all leather, all wood, all satin aluminum, all in harmony with intuitive technology.
2021 Mercedes-Benz S-Class Coupe: Just like its sedan counterpart, the new S-Class coupe leads from the front. It features a biturbo V8 with an adaptive suspension that makes driving around Plainview, TX fun.
2021 Mercedes-AMG GT 4DR Coupe: This four-door supercar pairs brilliant technology with unmatched design to offer the driver and the three lucky occupants a breathtaking experience.
2021 Mercedes-AMG GT Coupe: The AMG GT Coupe is a pure sports car with every element of it alluding to nothing else but that. All efforts that have gone into developing this car, from its exterior design to the sound system, work towards a single goal, performance enhancement.
SUVs
Mercedes-Benz GLA: The 2021 GLA is the smallest and most affordable SUV in this year's lineup. This SUV will introduce you to a whole new world of technology and convenience. The new GLA features an excellent cabin with significant improvements to the fabrics used and interior space. This car is not only limited to the pavement; it can also venture well off-road thanks to its off-road package.
2021 Mercedes-Benz GLB: The new GLB joins the lineup as a crossover SUV. The GLB provides plenty of room in the interior thanks to its long wheelbase and includes a third row that can fit two average-sized adults. Apart from its roomy cabin, it is also tech-savvy with a voice-activated infotainment system capable of entertainment, navigation, and weather reports. It is also potent and is propelled by turbocharged I4s capable of 221 horsepower and 302 horsepower.
2021 Mercedes-Benz GLC: The compact crossovers segment is a mix of sporty or fancy SUVs, and the new GLC offers more of the latter. Under the hood, the GLC is propelled by a turbocharged i4 that is very quick. There is also a plug-in hybrid available for those looking to save on gas. This SUV is fun to drive and offers more luxury than any competitor in its segment.
2021 Mercedes-Benz GLE: The fourth generation of this midsize SUV enters its sophomore year, and we are excited about the changes. There are also plenty of excellent engine options available most of which are very powerful, including the standard 255 horsepower option. Moreover, the GLE has been redesigned to include a more elegant interior and a stylish, aerodynamic exterior.
2021 Mercedes-Benz GLS: The GLS is the S-class of the Mercedes-Benz SUVs. This beauty is designed to provide an upscale feel, and it succeeds almost effortlessly. This three-row SUV has plenty of room for everyone, and all passengers are pampered with its tech-savvy cabin, high-quality materials, and excellent ride quality. AWD is offered as standard in tandem with a porthole sensing system.
2021 Mercedes-Benz G-Class: Chances are, if you are looking to buy this beauty, you want to stand out from the crowd. The G-Class SUV offers you a mix of luxury and capability. Fabricated in the same Austrian town as the G-Wagen, the G-Class SUV is just as capable as its counterpart. Its interior is nothing short of luxurious, offering you the latest technology, comfort, and convenience features. Moreover, this SUV is as luxurious as they come and can survive on the road all year long.
Schedule Your Test Drive Today
Whether you are looking for a Mercedes-Benz sedan, coupe, SUV, or convertible, you can trust Alderson European Motors Lubbock to offer you the best deals. Please make a point of visiting our dealerships in Lubbock to get a closer look at our 2021 lineup.
In the meantime, feel free to peruse our new vehicle specials, featured Mercedes-Benz models, and research any of our Mercedes-Benz for sale before stopping by today.