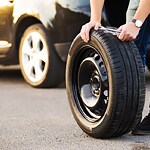 Spare tires come in many sizes and styles, and they each serve their own purpose. The two most common spare tires are full-size spare tires and compact temporary spares. Our team at Alderson European Motors Lubbock have expertise in tire service and maintenance and are here to help you before you have a flat tire and have to decide which tire you need.
Full-size spare tires are the same size as the tires on your vehicle and are referred to as the fifth tire. If you have a flat tire, you can replace the flat with a full-size spare tire and travel a long way without concerns. Compact temporary spares or donut tires are smaller and require more psi to be safe. They are designed only for temporary use and only for a few miles.
Whether you've had a flat tire or are just in need of a tire replacement, we're here to help you and keep you safely on the road. Pay us a visit at our shop in Lubbock and allow us to service your vehicle.