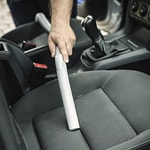 Lots of pets like to go for rides in the car. However, this can make a big mess if you have a pet that sheds a lot. Alderson European Motors Lubbock wants to make sure that your vehicle doesn't get ruined. Here are some helpful tips that will help you tackle pet hair problems.
Vacuuming your vehicle regularly can cut down on pet hair messes. You may want to look for a vacuum that comes equipped with various attachments that will get into the cracks and gaps all through your automobile.
A smaller portable vacuum can be used anywhere by simply plugging it into your vehicle. This is perfect for minor messes while on the road.
Rubber gloves can actually pick up pet hair if you add a little water to the equation. Running your hands over areas covered in fur will pick up some of the mess.